Welcome to my garden! I hope you will enjoy your visit! To be added to debbie's garden email list for updates, please email me and include the email address where you wish to receive updates.
NOTE: I NO LONGER AM A VENDER AT THE MARIETTA MARKET - HOWEVER IF YOU NEED SOMETHING EMAIL ME OR PERHAPS YOU WILL FIND IT ON MY STORE ON LOCALHARVEST OR AT VINEYARD FARMS...THANKS!
I want to thank all of my loyal customers from the Marietta Square Farmer's Market and other venues! Without you there would be no farmer's markets!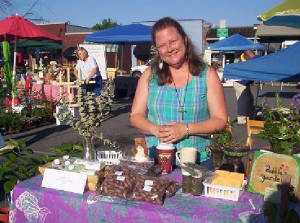 Market Day

My name is Debbie Hill, and I have recently relocated from Marietta, Georgia, where I have lived for 19 years, to Dallas, GA. I enjoy growing many different types of herbs, from the usual culinary herbs such as basil, oregano, parsley, sage, rosemary, thyme, tarragon, etc., to the medicinal herbs such as evening primrose, St. John's wort, etc., many of which are perennials which bear beautiful blooms! I also grow different types of gourds, strawberries, flowers, and vegetables. I make use of any spot of ground I can, and pots as well. Anywhere there is grass, I say "dig it up and plant something useful!" Although I suppose grass has its purposes....wiping your feet, etc...

As a child I grew up in a home located on several acres in a rural community, and our family had a rather large garden each year. My grandfather, a Methodist minister, was a gardener, as well, and I believe i inherited the "green thumb" from him. The feel of the dirt in my hands brings back pleasant memories and is soothing to my spirit. To see the tiny seeds I plant become beautiful plants is always a miracle to me! I never grow tired of gardening! As you can imagine, I do not fancy winter months too much! I am an outdoors kinda girl!

Herb facts....did you know??

Aloe Vera is an effective laxative that can aid digestion and ease stomach complaints.

Burdock has been used in connection with acne rosacea, acne vulgaris, menopause, psoriasis, rheumatoid arthritis.

Chamomile has been used in connection with Colic, Eczema, Gingivitis, Wound healing, Anxiety, Canker sores, Crohn's disease, Diarrhea, Gastritis, Irritable bowel syndrome and Peptic ulcer.

Dandelion has been used in connection with constipation, Edema, Indigestion and heartburn, Liver support, pregnancy and postpartum support.

Echinacea is renowned for its well-documented ability to boost immunity and fight colds

Fennel has been used in connection with Colic, Indigestion, heartburn and Irritable bowel syndrome.

Pennyroyal


Look Andrea, it's the tea cup you gave me...! LOL!

Basil



Lavender



Catnip



Chamomile



St.Johns Wort



Strawflower


Nope it's not an herb....but i like to grow them!

One of the easiest herbs to grow is basil. I try to always have some on hand!

There are many different varieties of each herb. I grow several types of basil: Genovese, Lettuce Leaf, Lime, Lemon, Cinnamon and purple...I use basil in a lot of dishes! It is so nice to go outside and pick my herb of choice each day! Lately it's been CILANTRO! Cilantro is loaded with antioxidants and is very good for you. I put it on wraps, cook with it when I make charro beans and chicken fajitas - yum!

Garlic is Known to lower cholesterol and triglycerides, Garlic is also taken as a cancer preventative and aid to general well being.

Horsetail has been used in connection with Brittle nails, Edema (water retention), Osteoarthritis, Osteoporosis, Urinary tract infection and Wound healing.

Jewelweed (Impatiens capensis), when used right after getting into poison ivy, can prevent the rash and resulting itching. Amazing stuff! (I sell jewelweed soap for this purpose)

Kava Kava has been used in connection with Anxiety, Menopause and Stress.

Lavender has been used in connection with Pregnancy, Indigestion, heartburn and Insomnia.

Milk Thistle This wild herb acts to support normal liver function and prevent disease.

Nettle has a long history of use. The tough fibers from the stem have been used to make cloth and cooked nettle leaves were eaten as vegetables. From ancient Greece to the present, nettle has been documented for its traditional use in treating coughs, tuberculosis, and arthritis and in stimulating hair growth.

Oregano. The name Oreganum is the contraction of two Greek words, oros meaning mountain and ganos meaning joy. Together the words suggest the beauty that oregano lends to the fields and hilltops on which it grows.2 Oregano was used extensively by the Greeks for conditions ranging from convulsions to heart failure. Nineteenth-century American Eclectic physicians (doctors who recommended herbal medicines) employed oregano as both a general tonic and to promote menstruation.

Peppermint was recognized in the early 18th century. The historical use of peppermint is not dramatically different than its use in modern herbal medicine. Classified as a carminative herb, peppermint has been used as a general digestive aid and employed in the treatment of indigestion and intestinal colic by herbalists.

Red Clover Traditional Chinese Medicine and Western folk medicine used this plant as a diuretic, a cough expectorant (an agent that promotes discharge of mucus from the respiratory passages), and an alterative. Alterative plants were considered beneficial for chronic conditions, particularly those afflicting the skin.

St. Johns Wort In ancient Greece, St. John's wort was used to treat many ailments, including sciatica and poisonous reptile bites. In Europe, St. John's wort was used by herbalists for the topical treatment of wounds and burns. It is also a folk remedy for kidney and lung ailments as well as for depression.
Did you know? Fresh herbs can be dried quickly in the oven on 150 to 200 degrees......voila! In about 45 minutes to an hour, depending on the herb, you have "instant" dried herbs for your favorite recipes! Also, you can place them on a cookie sheet in a gas oven and leave for several days, the pilot light is enough heat to dry out most thin leafy herbs. You can also "dry" herbs in the microwave, 30 to 45 seconds, but be careful...some of the woodier ones (such as Rosemary) will ignite...best to do them in the oven!

e-mail me at:
All For the Glory of God